Maui Jews News
Chag Purim Sameach!
02/19/2021 11:37:09 AM
Shavua Tov,
Purim is coming!
There are many gripping tales in the Tanakh, but the story of Esther is unique in that it seems to have been written for the stage. The dramatic story is elaborate and is told by an omniscient narrator who describes in detail the location, setting, attire of the characters, and the mood for each episode. It is a story of intrigue and power plays and includes a wise man, a ruthless villain, a banished queen, a naive queen candidate, and a complicated love triangle. 

Please join us:
***NEW TIMES***
Family Storytelling of Purim (Feb. 25th, 5:00pm - 5:15pm)
Dramatic Reading, in English followed by a discussion (Feb. 25th, 5:15pm) 

https://us02web.zoom.us/j/5284619173

Mishloach Manot/Giving Food Packages to Friends
The mitzvah of mishloach manot is based on Megillat Esther 9:19 and 22 which states that Purim was established as a day "of gladness and feasting, and of sending portions, one individual to his friend (and gifts to the poor)." There are varying opinions as to the reasoning behind this lovely mitzvah and how this principle is actually applied in practice. Bottom line it is considered fulfilled with a minimum of two portions of cooked food given to at least one person.

Matanot L'evyonim/Giving Food to the Poor
The essence of this Mitzvah is to make a poor person happy. This mitzvah is an extremely important one in that it allows us to take care of the people in our communities who are struggling to make ends meet and this year it is especially needed. The most prevalent custom is to give at least enough food or money to prepare a Purim seudah/meal but any amount can be given. Please send your donations to support needy people in our community to our ED Ellyn HERE . If you, or someone you know, would like to be a recipient please call Ellyn. She will keep your information completely private and donors will not know who their donations are going to. All donations received will be divided equally between the recipients. 

Seudat Purim/Purim Meal 
This mitzvah is based on Megillat Esther 9:17 - 22. It is generally practiced by having a festive meal on Purim with family and friends during daylight hours. This year, unfortunately, we cannot have a meal together. We wish you all a wonderful festive enjoyable Purim with delicious food!

Taanit Esther/Fast of Esther
Taanit Esther (13th of Adar) is a minhag/custom which is first mentioned in the 8th century, some 1200 years after the events described in the Book of Esther, by Rav Aha Meshabeha, the head of the Pumbedita Yeshiva in Babylonia. Today, some people fast, some don't fast, and some choose to water fast.

The mitzvah is actually not to hear the megillah read but for each person to read the megillah for her/himself (some add with understanding). So I like to say to myself before a reading begins that I am listening in order to fulfill the mitzvah by hearing someone else do the reading (which establishes that I am using the reading to fulfill my personal mitzvah). For those who desire a more traditional Megillah reading than we are offering this year, here are five covid-friendly options.

1. (If you have a scroll) If you know how to read Hebrew with the proper cantillations you can read the blessings and the Megillah at home, or if you don't know how to read with the cantilations you can follow along in the scroll to a prerecorded reading after saying your own blessings.

2. Listen to a live Megillah Hebrew Reading online while following along in a book or online text (and those who say one must understand. We recommend following in a language you understand). Sof Ma'arav on Oahu is planning an online Hebrew Reading.

3. Listen to a recorded Megillah Reading in the same way. (click here)

4. Read the Megillah to yourself (or follow along in a book or online text) in the language you are most comfortable. 

5. Join us for an English dramatic reading of The Purim Megillah Explained and make the intention to have this fulfill the mitzvah! https://us02web.zoom.us/j/5284619173

Purim Sameach!
​​​​​​​
Purim 2021 events!!!
Details are on our calendar at mauijews.org 
All Purim events share the same zoom link :)

Don't miss celebrating Purim with Rabbi Hanniel...We're so excited he'll be here to party with us - online!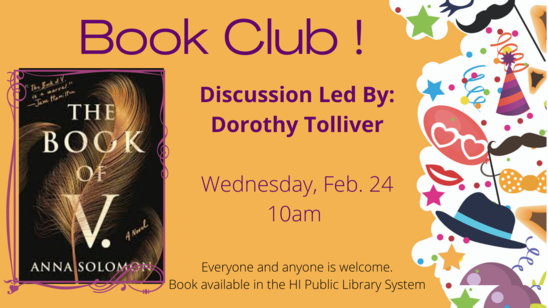 Click Here for more details about this fun book club selction to get ready to celebrate Purim. This book is available on amazon (use smile.amazon.com and choose Jewish Congregation of Maui) or in the Hawaii Public Library System. We will meet on Zoom...join from anywhere
---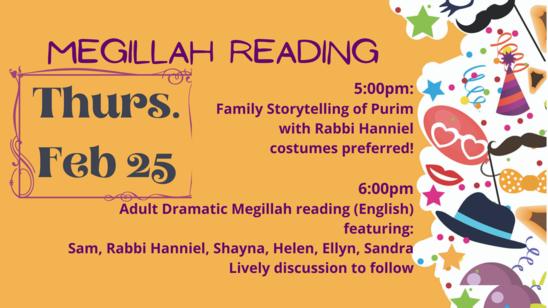 Pick up gragger craft:
I know we have more kids in the community than have picked up a craft kit. Member or not, please pick up a craft for the kids- or kids at heart. Tell your friends, or pick some up for them and give them out yourself. They're outside in a box, just help yourself :)


Kihei- 634 Alulike St. 
Daily until they're gone

Kula- 40 Kapalulu Place
Daily until they are gone.



You can make an impact while you shop everyday.

Simply shop at  smile.amazon.com/ch/99-0294390   and AmazonSmile will donate to the Jewish Congregation of Maui Inc, at no cost to you.

Same amazon, same prices, same everytthing... and JCM will get a donation from Amazon. Thank you for your support!!!
____________________________________________
The Jewish Congregation of Maui
Beit Shalom Synagogue
Kihei, HI 96753
Wed, April 14 2021
2 Iyyar 5781
Find Us!
Address:
634 Alulike Street
Kihei, HI 96753
CLICK HERE for directions
Phone: 808-874-5397
Email: admin@mauijews.org
Get Our Newsletter
Click below to receive our newsletter and stay up to date on everything that is happening at JCM!
Board of Directors
President:
Sheri Levin McNerthney
Vice President:
Michael O'Neal
Secretary:
Sarah Shaines
Treasurer:
Sion Vojdani
Directors:
Cynthia Lebowitz
Happy Lefton
Marc Levine
Jessica Pearl-Kwon
Gail Schell
Mission
The mission of the Jewish Congregation of Maui is to support and inspire Jewish religious and culture practices for Maui residents and visitors, provide and encourage Jewish education and life cycle services, and engage the Jewish community with religious services, classes, and events.
Wed, April 14 2021 2 Iyyar 5781