Maui Jews News
JCM this week: Feb. 22 - March 1
02/22/2021 07:57:24 PM
https://us02web.zoom.us/j/5284619173
THIS LINK IS FOR ALL OF OUR EVENTS!

Tuesday, February 23
7:00pm
Class with Sam S. 
Mitzvot (Divine Commandments)
What are the mitzvot? Where do they appear in the Torah? What is their interpretation? What is their purpose? How have they been a basis for a Jewish life throughout the generations? How can they apply in our lives, how they can inspire us, and what opportunities can they give us to feel a sense of connection?
We will look together at some of the sources and think about their meaning and relevance.
Sam plans to start with a general discussion of what mitzvot are and why they are important.
 

Wednesday, February 24
10:00am
Purim Book Club with Dorothy Tolliver (see below)


Thursday, February 25
PURIM!!!!
5:00pm: Kids storytime with Rabbi Hanniel
5:15pm: Dramatic English magillah reading
Did you pick up your graggar craft yet???


Friday, February, 26 
8:30am
Parsha Class with Sam S. 

5:00pm
***Note the time***
Toby Pechner...Ruach Shabbat...
.


Sunday, February 28
10:30am
Community Refuah Schleima and Mourner's Kaddish
Community prayer for loved ones who are ill and Kaddish for those who have passed. Those who would like to stay on and support each other after may do so.
Please join each week when you can to support those in our community who need us...your presence will bring comfort and peace to those who need it. 

The Biblical Hebrew Class- last chance to sign up!
Email jewishspirituality@gmail.com
 


Scroll down for Pesach information!
 

Purim 2021 events!!!
Details are on our calendar at mauijews.org 
All Purim events share the same zoom link :)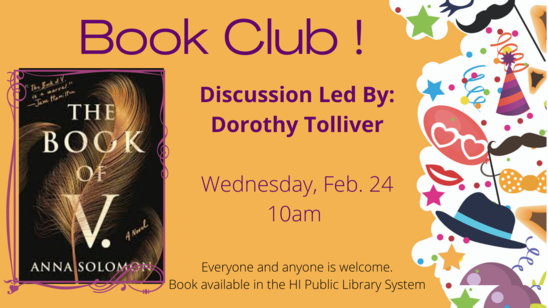 Click Here for more details about this fun book club selction to get ready to celebrate Purim. This book is available on amazon (use smile.amazon.com and choose Jewish Congregation of Maui) or in the Hawaii Public Library System. We will meet on Zoom...join from anywhere
---




Pick up graggar craft:
They have been re-stocked at both Kihei and Kula locations...grab how many you need. Members and non-members are welcome to them...we just want the kids in our community to have a fun Purim! Tell your friends to grab a bunch!


Kihei- 634 Alulike St. 
Daily until they're gone

Kula- 40 Kapalulu Place
Daily until they are gone.

_____


Pesach will be different this year, and yet, we still celebrate as a community.

Assembling a seder plate can be a daunting task; let us do it for you!

JCM will sell full ritu al seder plates for $36
(order link will be sent by email tomorrow)

There will be a JCM-led Zoom Seder for those who want to join a traditonal Pesach Seder. 
____________________


 Make the commitment to support equal Judaism for everyone... we have 4 girls who will read from the Torah for their Bat Mitzvah in the Fall...that's why we "join." We are the only place on Maui that allows girls/women to the Torah- our community is necessary.

p.s. We don't like the word member either, but that's how it is widely recognized when you invest and commit to a community...so for now, we'll use the word member.

Become a member today.


JCM is on a path to 100...100 members.

When we get to 100, we will have a bonus gift of $20,000 to our rabbi fund. 

Our Rabbi Fund currently has $26,000.




Yahrzeits
February 22 - March 1

Rosalie Ehrlich Klompus
Phoebe Kassenoff
Murray Ackerman
Geoffrey Meyers
Milya Halip
Rose Farber
Eli Bensignor
Max Mendlow
Alvin Moss
Leah Kirey
Marvin Marder
Zvi Mandel
Morris Lamm
Jacob Frohman
Rosa Povich
Dr. Leslie Malkin
Stanley Pomerantz
Elsie Zisken
Lydia Siegel
Daniel Shafer
Judith Alice Singer
Martin Schiff
Jean Caplan
Phyllis Kober
Yussie Joseph Harris
Jack Michaels
Bernard Wollen

Join us for mourner's kaddish on Sunday at 10:30
https://us02web.zoom.us/j/5284619173
You can make an impact while you shop everyday.

Simply shop at  smile.amazon.com/ch/99-0294390   and AmazonSmile will donate to the Jewish Congregation of Maui Inc, at no cost to you.

Same amazon, same prices, same everytthing... and JCM will get a donation from Amazon. Thank you for your support!!!
____________________________________________
The Jewish Congregation of Maui
Beit Shalom Synagogue
Kihei, HI 96753
Wed, April 14 2021
2 Iyyar 5781
Find Us!
Address:
634 Alulike Street
Kihei, HI 96753
CLICK HERE for directions
Phone: 808-874-5397
Email: admin@mauijews.org
Get Our Newsletter
Click below to receive our newsletter and stay up to date on everything that is happening at JCM!
Board of Directors
President:
Sheri Levin McNerthney
Vice President:
Michael O'Neal
Secretary:
Sarah Shaines
Treasurer:
Sion Vojdani
Directors:
Cynthia Lebowitz
Happy Lefton
Marc Levine
Jessica Pearl-Kwon
Gail Schell
Mission
The mission of the Jewish Congregation of Maui is to support and inspire Jewish religious and culture practices for Maui residents and visitors, provide and encourage Jewish education and life cycle services, and engage the Jewish community with religious services, classes, and events.
Wed, April 14 2021 2 Iyyar 5781