Shabbat Shalom and Chag Sameach!
11/26/2021 05:01:00 PM
Chag Sameach!
Happy Chanukah!

Can you help set up, clean up, decorate, etc for the Dec 5 Chanukah party...we'll be getting ready all week. Let Ellyn know when you're free to help!

Any changes and additions will be posted on the website calendar.

The link for all JCM events and services:
https://us02web.zoom.us/j/5284619173?pwd=cUtkYnQwblUzTzRYajhBY2RWamxkUT09
Meeting ID: 528 461 9173
Passcode: 331510

Sunday, November 28
9:00am Zoom
***Class with Rabbi Raanan***
"The Grinch of Hanukkah:
How the Real Story Challenges our Narrative"
Click HERE for details

and

10:30am - 12:00pm
Kulanu; Make latkes with Elinor
Live and in-person under our huge event tent outside.
RSVP to Happylefton@gmail.com and let us know you're joining.





Live on the west-side? 
JCM is coming your way for a Wednesday night menorah lighting on Dec 1 at 6pm. See details in the Monday newsletter next week!

Sunday, November 28
10:30am - 12:00pm
In-person at JCM!
For ages 5 -15



Let's make latkes!



Your kids will be the latke making experts this Chanukah. Bring them to JCM Sunday morning to learn techniques, recipes, and just have fun cooking with their friends. We request parents stay this week to help peel and grate with their younger kids :)

RSVP and Kulanu questions to Happylefton@gmail.com

Free...Donations requested

This weekly camp-style fun at JCM ia a hit.
Did you see the menorahs they made with Marge? Seriously, our kids made these!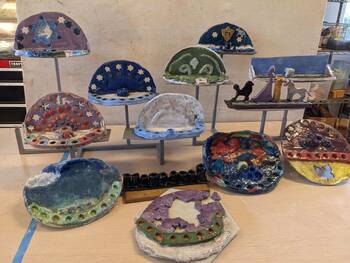 A few photos from the past month... 
  


Yahrzeits
November 22 - November 29


Dorothy Wiener
Robert Campbell
Nehemia Cohen
Jeffrey Sway
Ruth Feuerstein
Joseph Pitkoff
Myron Miller
Janice Lasko
Leah DuBoff
Anna Bloom
Maurice Jay Rose
Herman Greenstein
Bunny Epstein
Vera Gretchen Hammerstein


Please let us know at admin@mauijews.org if you would like to schedule a Zoom Mourner's Kaddish. 
You can make an impact while you shop everyday.

Simply shop at  smile.amazon.com/ch/99-0294390   and AmazonSmile will donate to the Jewish Congregation of Maui Inc, at no cost to you.

Same amazon, same prices, same everything... and JCM will get a donation from Amazon. Thank you for your support!!!
____________________________________________
The Jewish Congregation of Maui
Beit Shalom Synagogue
Kihei, HI 96753
Thu, January 27 2022
25 Shevat 5782
Find Us!
Address:
634 Alulike Street
Kihei, HI 96753
CLICK HERE for directions
Phone: 808-874-5397
Email: admin@mauijews.org
Get Our Newsletter
Click below to receive our newsletter and stay up to date on everything that is happening at JCM!
Board of Directors
President:
Sheri Levin McNerthney
Vice President:
Marjorie Bonar
Secretary:
Janine Holstein
Treasurer:
Sion Vojdani
Directors:
Marc Levine
Michael O'Neal
Gail Schell
Sarah Shaines
Mission
The mission of the Jewish Congregation of Maui is to support and inspire Jewish religious and culture practices for Maui residents and visitors, provide and encourage Jewish education and life cycle services, and engage the Jewish community with religious services, classes, and events.
Thu, January 27 2022 25 Shevat 5782