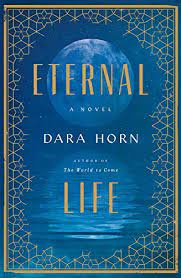 Book Club with Dorothy
Monday, February 14, 2022
•
13 Adar I 5782
10:00 AM - 12:00 PM
Eternal life by Dara Horn
What would it really mean to live forever? Rachel is a woman with a problem: she can't die. Her recent troubles―widowhood, a failing business, an unemployed middle-aged son―are only the latest in a litany spanning dozens of countries, scores of marriages, and hundreds of children. Gripping, hilarious, and profoundly moving, Eternal Life celebrates the bonds between generations, the power of faith, the purpose of death, and the reasons for being alive.
Share Print Save To My Calendar
Thu, May 19 2022
18 Iyyar 5782
Find Us!
Address:
634 Alulike Street
Kihei, HI 96753
CLICK HERE for directions
Phone: 808-874-5397
Email: admin@mauijews.org
Get Our Newsletter
Click below to receive our newsletter and stay up to date on everything that is happening at JCM!
Board of Directors
President:
Sheri Levin McNerthney
Vice President:
Marjorie Bonar
Secretary:
Janine Holstein
Treasurer:
Sion Vojdani
Directors:
Gail Schell
Sarah Shaines
Mission
The mission of the Jewish Congregation of Maui is to support and inspire Jewish religious and cultural practices for Maui residents and visitors, provide and encourage Jewish education and life cycle services, and engage the Jewish community with religious services, classes, and events.
Thu, May 19 2022 18 Iyyar 5782